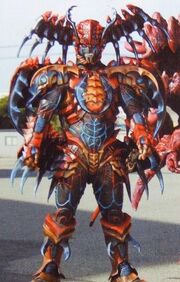 Vrak was turned into a half Nighlok Alien by Octoroo before they and their armies went out to destroy all of the core Power Rangers from Samurai to Safari; he is also now twice as powerful as Xandrid.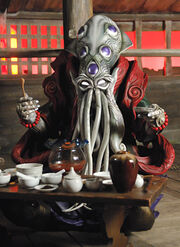 Octoroo is the one responsible for Vrak's hybrid resurrection and plays a key role in the New Nighlok War.
Vrak Clones
Edit
Vrak can now clone himself and his clones are completely loyal to him.
Metal Alice
Edit
Metal Alice returns as is still very loyal to her master.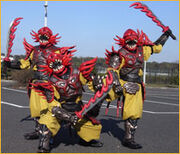 These are the most common breed of Moogers and one of several minions under Vraks control.
Flying Moogers
Edit
Another breed of Nighlok minions and the only ones who can fly.
Spitfangs
Edit
Giant crocodile like heads with teeth and five mouths, the Spitfangs are the most wild as savage in and of The Nighlok Army.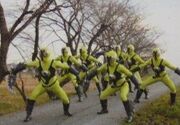 Vrak's original minions and new members of the Nighlok Armada.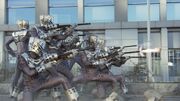 The X-Borgs were originally the soldiers of The Alien Armada known as The Zangyak; but now, they are all under the command of Metal Alice.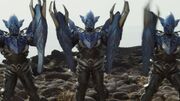 Bruisers are another breed of minions under the control of Metal Alice who can only fly after morphing into a jet like form.
Xandrid's Junk
Edit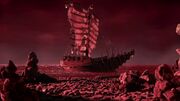 In the Netherworld and riding on the Sanzu River is Xandrid's Junk, the pirate ship and home of The Nighloks in this realm. 
The Story
Edit
During the Legendary Battle, Octoroo discovered the body of Prince Vrak and then brought him back to life as a Nighlok hybrid with the remains of Master Xandrid, turing him into his present state.Together with friends and minions both old and new, The Nighlok/Alien Alliance (N.A.A.) was born, destroying all of the core members of every Power Ranger team from Samurai to Safari but leaving the 6th and Extra Rangers behind. The remaining Rangers of all six team's than all joined forces to avenge their fallen teammates until everyone in the N.A.A. is destroyed once and for all.
Subcategories
This category has the following 9 subcategories, out of 9 total.